Cilantro, also known as coriander or Chinese parsley, with a distinct flavor, is a versatile herb widely used in various cuisines around the world.
However, if you dislike it's flavor, or are allergic to it or ran out of it or are just looking for a change of flavor for a new recipe, you may find this post as a guide to the best alternatives to Cilantro.
Whether it's a curry or a salad, we love garnishing the final dish with fresh and aromatic greens that are locally available. If it's a drink, the best green is mint leaf and for curries we use cilantro or coriander leaves.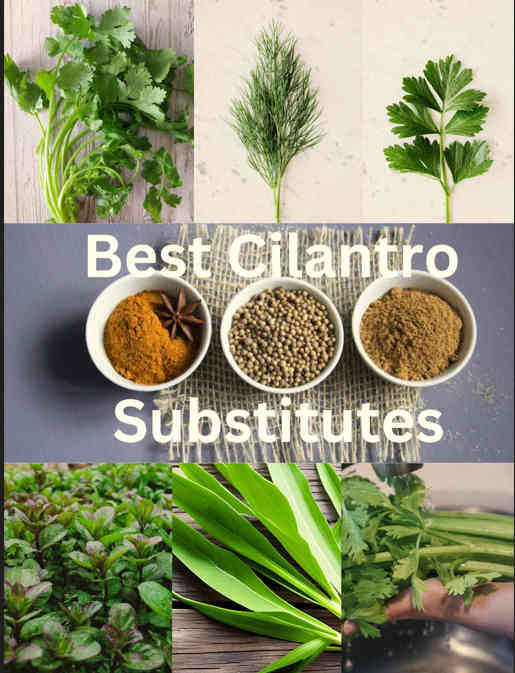 There are several substitutes available that can provide a similar flavor profile or fresh herbaceous notes to recipes that call for cilantro. Whether you're seeking alternatives due to personal preference or unavailability, this article will introduce you to a range of substitutes for cilantro, allowing you to experiment and adapt your culinary creations.
Jump to:
What Is Cilantro?
Cilantro, scientifically known as Coriandrum sativum, is an herb that is widely used in cooking for its distinctive flavor and aroma. It is also known by other names such as coriander leaves or Chinese parsley. Cilantro is native to regions in Southern Europe, North Africa, and Western Asia, but it is now cultivated and utilized globally.
This herb is commonly used in various cuisines around the world, including Mexican, Indian, Middle Eastern, and Asian dishes. It is often added fresh as a garnish or incorporated as an ingredient in salads, salsas, curries, soups, marinades, and other flavorful recipes. Cilantro adds a vibrant and refreshing element to dishes and can enhance the overall taste and aroma.
Difference Between Coriander and Cilantro
Cilantro and coriander refer to different parts of the same plant but they have distinct characteristics and uses.
Cilantro typically refers to the leaves and stems of the coriander plant. It has a bright, citrusy flavor with a slightly pungent and herb like taste.
Coriander, on the other hand, typically refers to the seeds of the coriander plant. These seeds have a different flavor profile compared to cilantro leaves. Coriander seeds have a warm, nutty, and slightly earthy taste. Ground coriander seeds are commonly found in spice blends, curries, soups, and pickling recipes.
There is no difference between coriander leaves and cilantro—they are the same thing. The term "cilantro" is primarily used in the Americas, particularly in the United States, to refer to the leaves and stems of the same plant. On the other hand, "coriander" is the term commonly used in other parts of the world, including Europe, Asia, and Australia, to refer to both the leaves and the seeds of the same plant.
So, when people in the United States mention "cilantro," they are referring to the green, leafy part of the coriander plant that is used as an herb in cooking. Meanwhile, in other regions, "coriander" encompasses both the leaves and the seeds of the plant.
To summarize, coriander leaves and cilantro are interchangeable terms that refer to the same part of the plant—the leafy greens with a fresh, citrusy flavor used in culinary applications.
6 Substitutes for Fresh Cilantro
While looking for cilantro substitutes, you may consider the following fresh greens that may ideally swap for the fresh cilantro in a curry, salad or a vegetable side dish.
1. Parsley
Parsley is a widely used substitute for cilantro due to its similar appearance and mild, fresh flavor. It has a earthiness with peppery taste.
Flat-leaf parsley, also known as Italian parsley, is preferred over curly parsley for its stronger taste. It works well as a substitute in salads, garnishes, and many Mediterranean and Middle Eastern dishes. You may replace cilantro with it in the ratio 1:1.
2. Basil
Although basil has a distinct flavor different from cilantro, it can still serve as a substitute in certain recipes. It has a sweet, aromatic and mildly spicy flavor. In India, The Tulsi leaves (another basil family) are used for religious and medicinal purposes.
It provides a pleasant herbaceous taste and can be a good alternative in dishes like pesto, pasta sauces, and soups. You may replace cilantro with it in the ratio 1:1.
3. Dill
Dill has a bright and sweet flavor somewhere between anise and parsley but can work well as a substitute, particularly in dishes that benefit from its fresh, tangy taste. It is commonly used in pickling, seafood dishes, and Scandinavian cuisine. You may replace cilantro with it in the ratio 1:1.
4. Mint
Mint can be used as a substitute for cilantro in certain recipes, especially those that could benefit from a touch of minty freshness. It has mild sweet and absolutely cool flavor.
It pairs well with ingredients like lime, cucumber, and yogurt, making it suitable for some salads, dressings, and drinks.
You may replace cilantro with it in the ratio 1:0.75.
5. Mexican Oregano
If you are looking for a substitute specifically in Mexican or Latin American dishes, Mexican oregano can be a viable alternative. While it has a pungent citrus flavor profile, it can add a distinct and complementary taste to salsas, marinades, and stews. It's recommended to use dried oregano for best results.
6. Tarragon
Tarragon is not typically considered a direct substitute for cilantro due to its distinct flavor profile. Tarragon has a strong anise-like taste with hints of licorice, which differs significantly from the fresh, citrusy flavor of cilantro. However, in certain recipes, tarragon can provide a unique and interesting alternative if you are open to experimenting with flavors.
If you're looking for a substitute for cilantro, it's best to choose herbs with more similar profiles. Parsley or basil are commonly used as substitutes for cilantro because they offer a mild, herbaceous flavor that can complement a variety of dishes. These herbs are more likely to provide a closer approximation to the fresh and bright qualities of cilantro.
That being said, if you enjoy the flavor of tarragon and want to experiment with it in recipes that call for cilantro, feel free to do so. Just keep in mind that the overall taste of the dish may be quite different, as tarragon's anise-like flavor can significantly alter the flavor profile. It's always recommended to adjust quantities and taste as you go to ensure the desired flavor balance in your recipe.
3 Substitutes for Cilantro as a Spice
In curries or dry vegetable, cilantro or as we call in India- coriander seeds (whole) are used commonly. Coriander seeds have a slightly citrusy and nutty flavor. They are commonly used in curries as a key spice. Roasting and grinding coriander seeds enhances their aroma and flavor and is used as coriander powder in Asian recipes.
If you are looking for a whole or powdered spice of coriander seeds, you may use the following:
1. Cumin Seeds
Cumin seeds have a warm and earthy flavor. They are often tempered in hot oil or ghee at the beginning of the cooking process to release their aroma and infuse the dish with their distinctive taste. You may use roasted cumin ground powder as well. It works well for salads, yogurts, and dry vegetables.
2. Coriander Seeds
Coriander seeds have a slightly citrusy and nutty flavor. They are commonly used in curries as a key spice. Roasting and grinding coriander seeds would result in aromatic coriander powder used in Asian/Indian recipes of curries and dry veggies.
3. Dried Parsley
While dried parsley doesn't exactly mimic the fresh and vibrant taste of cilantro, it can still offer a mild herbaceous flavor. It can be used as a substitute in recipes that call for dried herbs, such as soups, stews, and sauces.
One may also experiment with dried coriander or dried fenugreek leaves.
4. Herb Blends
Some herb blends, such as Italian seasoning or fines herbs, contain a combination of dried herbs that may include parsley, basil, and other flavorful herbs. These blends can add complexity and depth to dishes as a substitute for cilantro, although they won't replicate its exact taste.
Remember, using dried or whole spices as substitutes for cilantro may not perfectly capture its unique flavor. However, they can still contribute their own distinctive taste to enhance your dishes. It's always a good idea to experiment and adjust the quantities according to your personal preference and the specific recipe you're working with.
Popular Cilantro Recipes from The Blog
FAQs
What tastes closest to cilantro?
Since Parsley comes from the same family as that of cilantro, it tastes closest to cilantro.
What is the Indian equivalent of cilantro?
Coriander leaves or Chinese parsley is Indian equivalent of Cilantro.
Can I substitute dried coriander for cilantro?
Yes, if you really like same flavor as that of cilantro, dried coriander works well. That said,
---
You may also like: