If you are looking for Paneer Substitute, you must be either a big fan of it and can't seem to locate it or you are looking for a great Vegan Paneer Alternative! This post aims to share with you a comprehensive list of substitutes of Paneer!
Paneer is the pride of Indian dishes and has become very popular worldwide. Also, called Indian Cottage Cheese, Paneer dishes are the crowd pleaser at any gathering! Whether it is a starter or a main course, any celebration is incomplete if Paneer is not included in the menu.
If you are lactose intolerant or can't locate Paneer in your area, you would find amazing Paneer Substitutes in this post and they are not really close in taste but would yet do justice to the dish in question.
I am a big fan of Paneer and I have created this post for my users who are looking for a substitute for paneer. If you also love paneer, you may wish to check my popular collection of Healthy Paneer Recipes.
What Is Paneer?
Paneer is made from cow's or buffalo's milk by curdling it with lemon juice or any other acid. It is fresh, unsalted and soft cheese popular in India, Nepal and Sri Lanka.
It can be easily made at home and is full of milky flavor and has a dense crumbly texture. Generally, its cubed for making variety of snacks and curry dishes. Scrambled Paneer is a great protein substitute for scrambled eggs for those who avoid eating eggs.
The paneer cheese is non- melting and it won't melt like the mozzarella cheese or any other variety of cheese. The soft and crumbly texture is loved by Indians so much that we can have it as raw even. The best way to have paneer in raw form is to slice it up and sprinkle black salt and black pepper. Sometimes I would add thin paneer slices in tomato onion sandwich too.
In short, paneer is the best vegetarian protein source that is both healthy and delicious.
Nutrition In Paneer
Paneer is a rich source of protein and calcium. 100 gms of paneer has about 14 gm of protein, which is double than that of protein in one egg.
As it's a rich source of Protein, it keeps you full for longer and being rich in calcium it strengthens the bone.
Definitely, Paneer is a great choice for people trying to lose weight.
8 Best Paneer Substitutes
1. Halloumi Cheese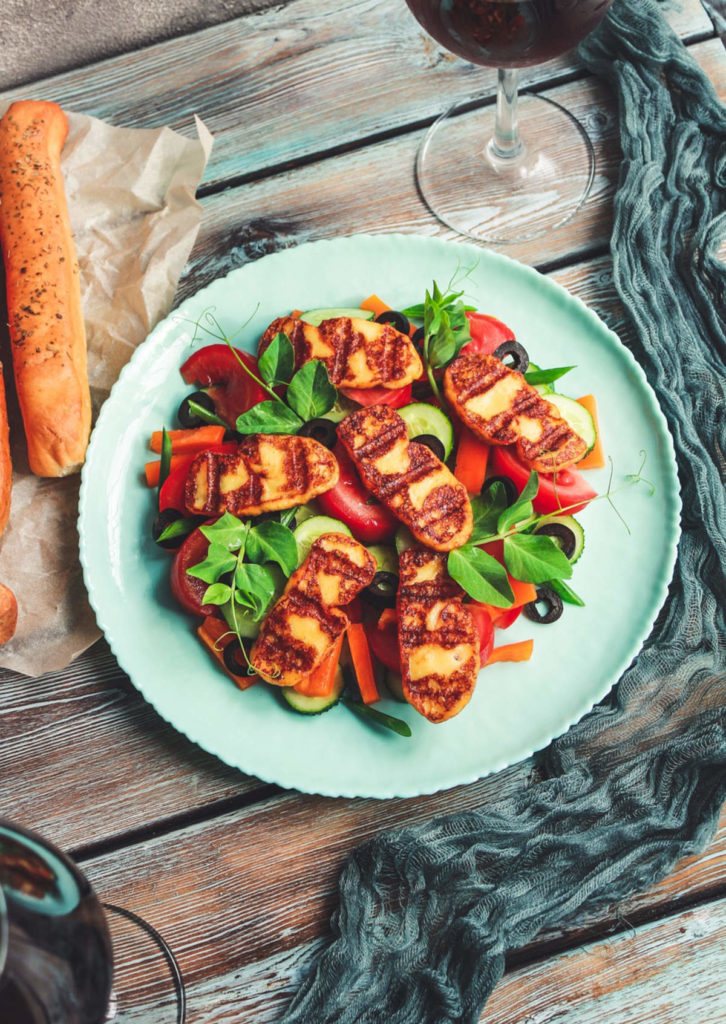 Halloumi or haloumi is a semi-hard cheese made from a mixture of goat's and sheep's milk, and sometimes also cow's milk. Its texture is described as squeaky. It has a high melting point and so can easily be fried or grilled, a property that makes it a popular meat substitute.
It is not very cheesy but tangy, creamy and salty in flavor. Those who love high salt dishes, would definitely appreciate the depth that Halloumi cheese adds to any dish. It's taste is similar to mozzarella and saltiness matches that of Feta Cheese. It has high calorie and fat as compared to feta cheese.
Roasted Golden in a pan or grilled or fried, Halloumi goes well with salad and blends easily with vegetables. One may top it as raw over soups or salads.
2. Queso Blanco Cheese
Queso Blanco, literally white cheese in Spanish, can refer to many different kinds of cheeses whose only common trait is their white color.
It's made by similar method like paneer and is a close paneer's alternative. Unlike Queso Blanco, Quesco Fresco is made using Rennet (curdled milk from the stomach of an unweaned calf, containing rennin and used in curdling milk for cheese.) and is not vegetarian.
Extremely rich in calcium and protein, this blanco cheese is soft and is usually non-melting and can be heated to make a cheesy creamy dip.
3. Panela Cheese
Queso panela or panela cheese is a white, fresh and smooth Mexican cheese of pasteurized cow's milk. It is also known as queso canasta or queso de la canasta. It is served most often as part of appetizer dishes such as salads or quesadillas. This cheese also has similarities to the Indian cheese paneer.[1]
It absorbs other flavors easily and is mostly bland and needs spicy layers of chili and spices just like our Paneer. Good, genuine, fresh panela inhabits a similar watery environment to mozzarella, and can be used in quite the same fashion. It may also be fried, although it holds its shape and does not melt very easily.
Slight salty, sour and crumbly like paneer, it is also suitable for curry dishes.
4. Tofu
Made from soybeans, Tofu is the Best Vegan substitute of Paneer. Tofu doesn't taste like paneer though, it has similar crumbly texture and is mildly flavored. If you wish to make snack or curry dishes, you would need to use extra firm tofu or else it would dissolve in the gravy or won't take the form for the crispy appetizers. For making it firm, you may also press it below some weight and remove the excess water before using in any recipe.
Just like paneer, it has bland flavor and solely depends upon the flavor of the curry or gravy in which it is cooked. Rich in proteins and good fats and overall low in calories, firm tofu is a great substitute for meat lovers too.
5. Feta Cheese
Feta (Greek: φέτα, féta) is a Greek brined curd white cheese made from sheep's milk or from a mixture of sheep and goat's milk. It is soft, with small or no holes, a compact touch, few cuts, and no skin.
It is formed into large blocks, and aged in brine. Its flavor is tangy and salty, ranging from mild to sharp. It is crumbly and has a slightly grainy texture. Feta is used as a table cheese, in salads such as Greek salad[1]
From my own experience of making Veg Greek Salad, I must say that feta cheese has great flavor. Since it's already salted make sure not to add any extra salt in salad dishes. Also it has low calories than paneer and makes a good choice for people on diet plan.
While feta is a great source of calcium and protein, it is high in sodium and that is something people with heart issues might to consider. Do consult your health specialist before going vegan and choosing feta over paneer.
6. Cottage Cheese
Cottage cheese is a cheese curd product with a mild flavor and a creamy, non-homogeneous, soupy texture. It is also known as curds and whey. It is made from cow's milk by draining the cheese, as opposed to pressing it to make cheese curd—retaining some of the whey and keeping the curds loose.
Paneer is unsalted while cottage cheese is slightly slated and may have cream in it. So if you are on weight loss, choose paneer over cottage cheese.
7. Ricotta
Ricotta is an Italian whey cheese made from sheep, cow, goat, or Italian water buffalo milk whey left over from the production of other cheeses.
It is creamy, white, soft and slightly sweet in taste. Just like paneer, its is non melting cheese. You may dollop your pasta or pizza with it or make a Stuffed breads, lasagna, pancakes with this flavorful cheese.
High in protein and low in calories, the ricotta cheese is a great choice for people on weight-loss.
8. Mozzarella Cheese
The best and popular Pizza cheese, Mozzarella is a melting cheese and can take the dish to absolutely another level.
Mozzarella is a southern Italian cheese traditionally made from Italian buffalo's milk. Fresh mozzarella is generally white but when seasoned it turns to a light yellow depending on the animal's diet.
Mozzarella is low carb high protein and high calcium cheese and fits well for low carb diet people.
Note: Paneer is a vegetarian product but not all variety of cheese are vegetarian. Cheese may have rennet, which is basically an animal product. This post in no way promotes an animal product to vegetarian/vegan readers and you may choose the appropriate paneer substitutes that suits you.
Nutrition Comparison Chart of Paneer and Different Cheesees (per 100gm)
Source: Google
| | | | | |
| --- | --- | --- | --- | --- |
| S.No | Cheese | Calorie | Total Fat | Total Carbs |
| 1 | Paneer | 265 | 26.9 | 6.1 |
| 2 | Halloumi Cheese | 110 | 9 | 0 |
| 3 | Queso Blanco Cheese | 310 | 24 | 2.5 |
| 4 | Tofu | 144 | 9 | 3 |
| 5 | Feta Cheese | 75 | 6 | 1 |
| 6 | Cottage Cheese | 163 | 2.3 | 6.2 |
| 7 | Ricotta Cheese | 204 | 14.2 | 8.9 |
| 8 | Mozzarella | 280 | 17 | 3.1 |
FAQ
Is tofu the same as paneer?
Tofu and Paneer are similar in texture but not same in taste. People who love Paneer would take some time to adapt to the taste of Tofu. Tofu when firmed can be used in paneer dishes as a great vegan substitute for paneer.
What is paneer called in English?
Paneer is Indian Cottage Cheese.
What are the side effects of paneer?
Paneer is essentially protein and is heavy for stomach. For a sensitive stomach, it may cause heaviness or bloating. For people with allergies to milk may avoid paneer and look for the above substitutes.
---
You may also like: