Tomato Puree is a versatile ingredient for making spaghetti or pasta sauces, gravy or curry dishes. Running out of Tomato puree means a great loss to the flavor and texture of the recipe. You may easily find Easy and Best Tomato Puree Substitutes in this comprehensive guide!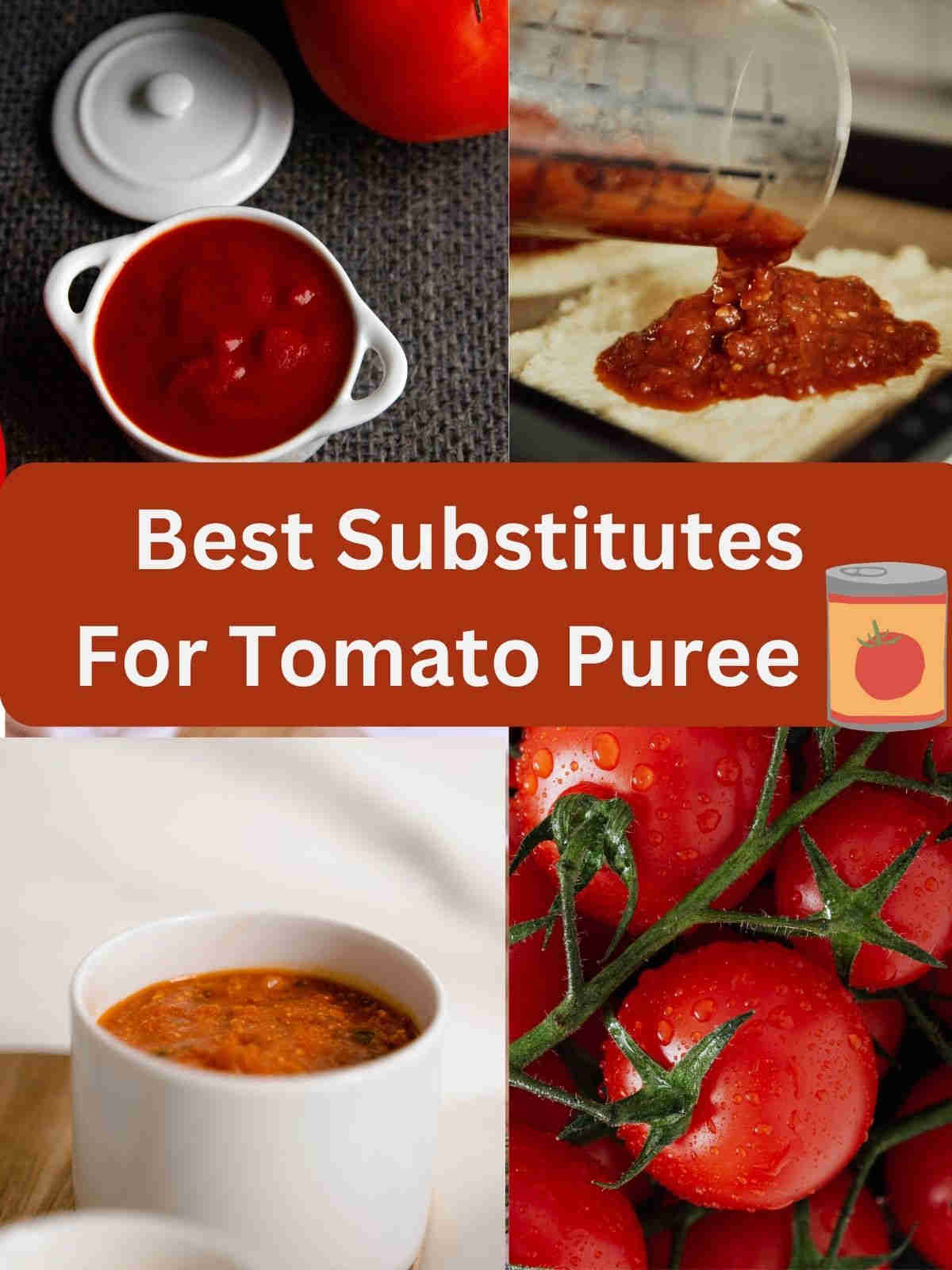 When it comes to cooking, tomato puree is a versatile and common ingredient in a variety of dishes and boosting their flavor with tanginess and great texture.
Whether you run out of the tomato puree or wish to find an alternative for enhancing taste, this complete guide would help you find the excellent tomato puree substitutes for any savory dish.
From tomato sauce and crushed tomatoes to diced tomatoes, these alternatives each boast of their unique textures and flavors and can help you achieve the similar taste for the recipe.
Honestly, I have never been a fan of processed foods and I always prefer to use fresh tomatoes in all my recipes. I got motivated to write this post, thinking that others might feel the same and need quick alternatives to store bought preserved tomato puree.
Jump to:
What Is Tomato Puree?
Tomato puree is a thick, smooth, and concentrated tomato product made from ripe tomatoes that have been cooked, strained, and reduced to a thick consistency. It serves as a versatile base ingredient in a wide range of recipes due to its rich tomato flavor and smooth texture.
Which Recipes Use Tomato Puree?
Tomato puree is commonly used in recipes to make:
Sauces like pasta sauces, such as marinara, as well as pizza sauce. Its concentrated flavor adds depth and richness to these dishes.
Soups-Tomato puree is a key component in tomato soup and various other tomato-based soups, lending a creamy texture and a burst of tomato flavor.
Curries: In Indian cuisine, tomato puree is often used in curry recipes to create a smooth and velvety sauce, like in paneer dishes or butter chicken.
Stews and Casseroles: It can be added to stews, casseroles, and chili for a tomato boost and to thicken the sauce.
Gravies: In many meat and vegetable gravies, tomato puree enhances the overall flavor and consistency.
Baked Dishes: It's a key component in dishes like lasagna and baked casseroles.
In recipes, you can adjust the quantity of tomato puree to control the intensity of the tomato flavor and thickness of the sauce, making it a valuable ingredient in the kitchen.
How To Make Homemade Tomato Puree
While the store bought tomato purees can be handy, the flavor and freshness that comes from the homemade tomato puree is incredible. The best thing is you can control what goes in. If your pantry doesn't have tomato puree and you have sufficient time to make it at home, you may try these steps:
To make homemade tomato puree, start by washing ripe tomatoes.
Optionally, blanch them in boiling water for easy peeling, then remove seeds if desired.
Blend the tomatoes until smooth, strain if needed
Cook for thicker or desired consistency. Finally, cool and store in airtight containers in the refrigerator or freezer.
The time it takes to make homemade tomato puree can vary depending on the quantity of tomatoes and whether you choose to peel and strain them. Generally, the process can take approximately 30 min for about 1 kg tomatoes.
Best Substitutes For Tomato Puree
1. Fresh Tomatoes
Using fresh ripe tomatoes is easier than you may imagine. You may blend them quickly in a food processor and use your own fresh tomato puree for curries and spaghetti or pasta sauce. The fresh tomatoes can be roughly chopped for adding to vegetable side dishes like Aloo beans, Aloo capsicum or Paneer Dishes in combination with grated tomato puree.
I have always used fresh tomatoes in dry Indian curries both in grated and chopped form and they definitely add amazing flavor. For best results, the fresh tomato puree should be used almost twice as the store bought tomato puree.
If you are a busy working person, you may store the fresh tomato puree in a dry container with a lid in the refrigerator for about 2-3 days.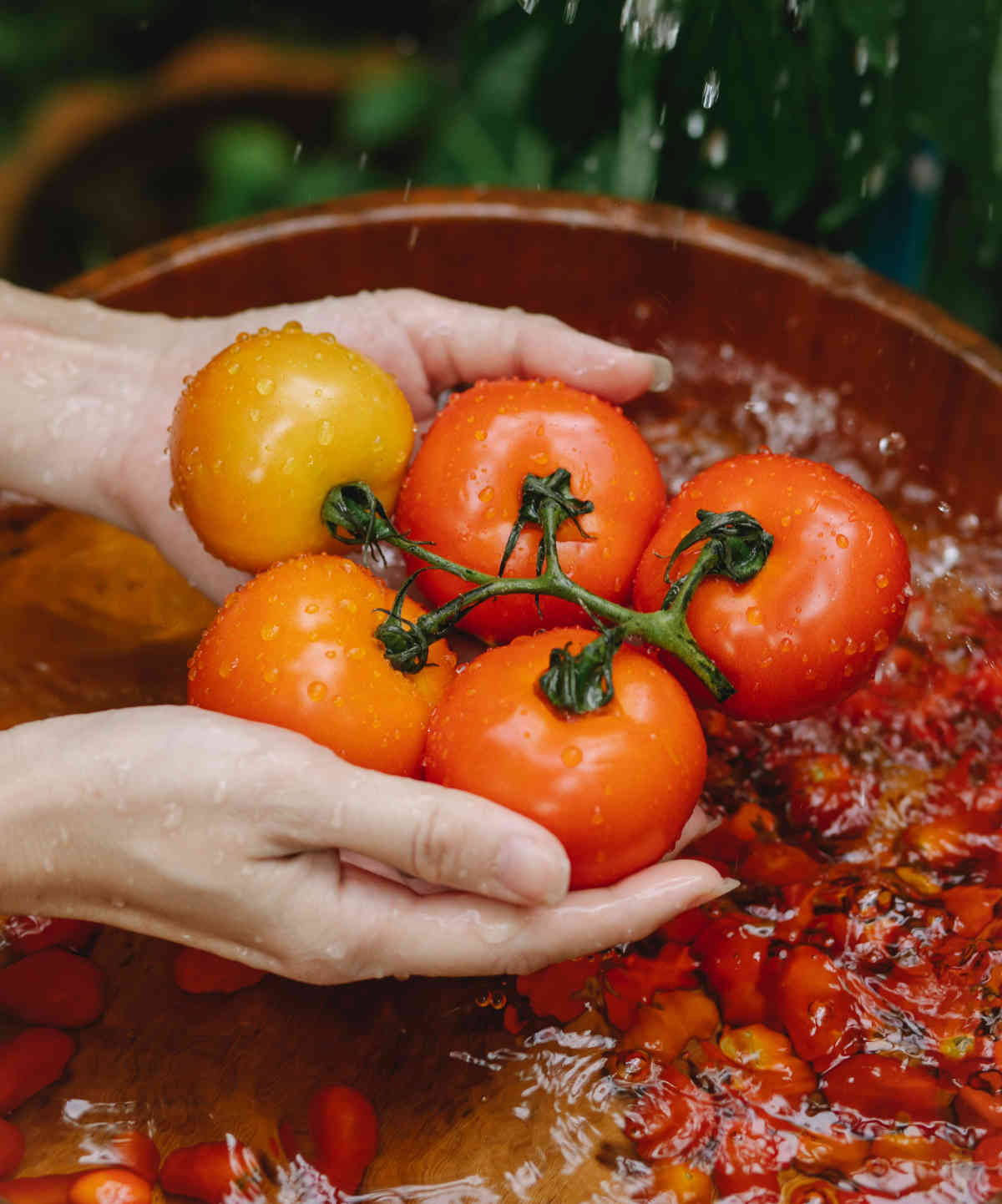 2. Canned Tomatoes- Crushed or Diced
While fresh tomatoes add incredible flavor to dishes, you may find the canned tomatoes a quicker alternative to tomato puree. Crushed tomatoes offer a chunkier texture, so you may want to use 1.5 cups for every cup of tomato puree in recipes like curries and pasta.

Diced tomatoes can be used as a substitute in a 1:1 ratio for curries, pasta, and pizza sauce, but you may want to blend them for a smoother texture in gravies.
3. Marinara Sauce
If you are making dishes like pasta, pizza sauces, stews or soups, you may find the Marinara sauce as the best substitute.
Marinara sauce is essentially a tomato-based sauce with added seasonings like garlic, onions, herbs, and sometimes even a touch of sugar.
When using marinara sauce as a substitute for tomato puree, keep in mind that it will have a slightly different flavor (strong flavor) profile due to the added ingredients. However, it can add depth and complexity to your dish. You may need to adjust the seasonings in your recipe to account for the flavors already present in the marinara sauce. In most cases, you can use marinara sauce in a 1:1 ratio as a replacement for tomato puree.
3. Tomato Sauce
Tomato sauce is a good all-purpose substitute for tomato puree. Tomato sauce is a basic tomato-based condiment with seasonings. Tomato sauce works best with savory dishes. It has a similar consistency and can be used in a 1:1 ratio in most recipes.
4. Tomato Paste
Tomato paste is more concentrated than tomato puree, so it should be diluted with water or broth to achieve the desired consistency. Start with a small amount and adjust to taste.
5. Tomato Ketchup
While tomato ketchup shares some similarities with tomato puree, it is not an ideal substitute in most recipes due to its high sugar content and distinct flavor. Ketchup is much sweeter and tangier than tomato puree, which could significantly alter the taste and texture of your dish. It's best to use ketchup as a substitute only in recipes where the sweet and tangy flavor won't be a problem, such as in barbecue sauces or meatloaf glazes. For most other recipes that call for tomato puree, it's better to use alternatives like tomato sauce, crushed tomatoes, or diced tomatoes for a more suitable result.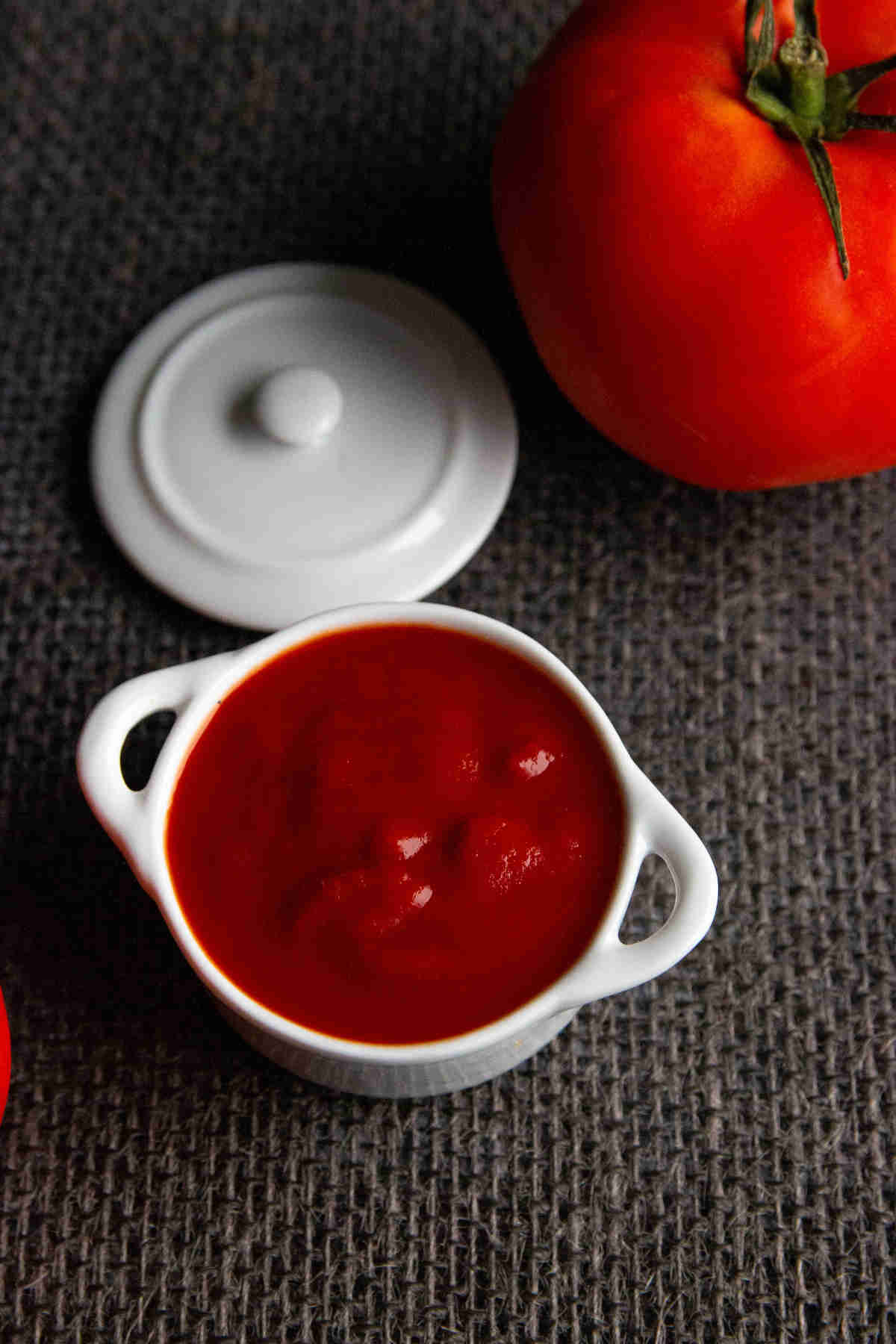 5. Red Bell Pepper Puree
In a few recipes like salsa, dips, pasta or pizza sauce, and stir fries, red bell pepper puree can work as a substitute for tomato puree, particularly when you want a similar color and a hint of sweetness.
In a few recipes like soups and stews, pumpkin puree can also work as an ideal substitute.
Top Recipes Using Tomatoes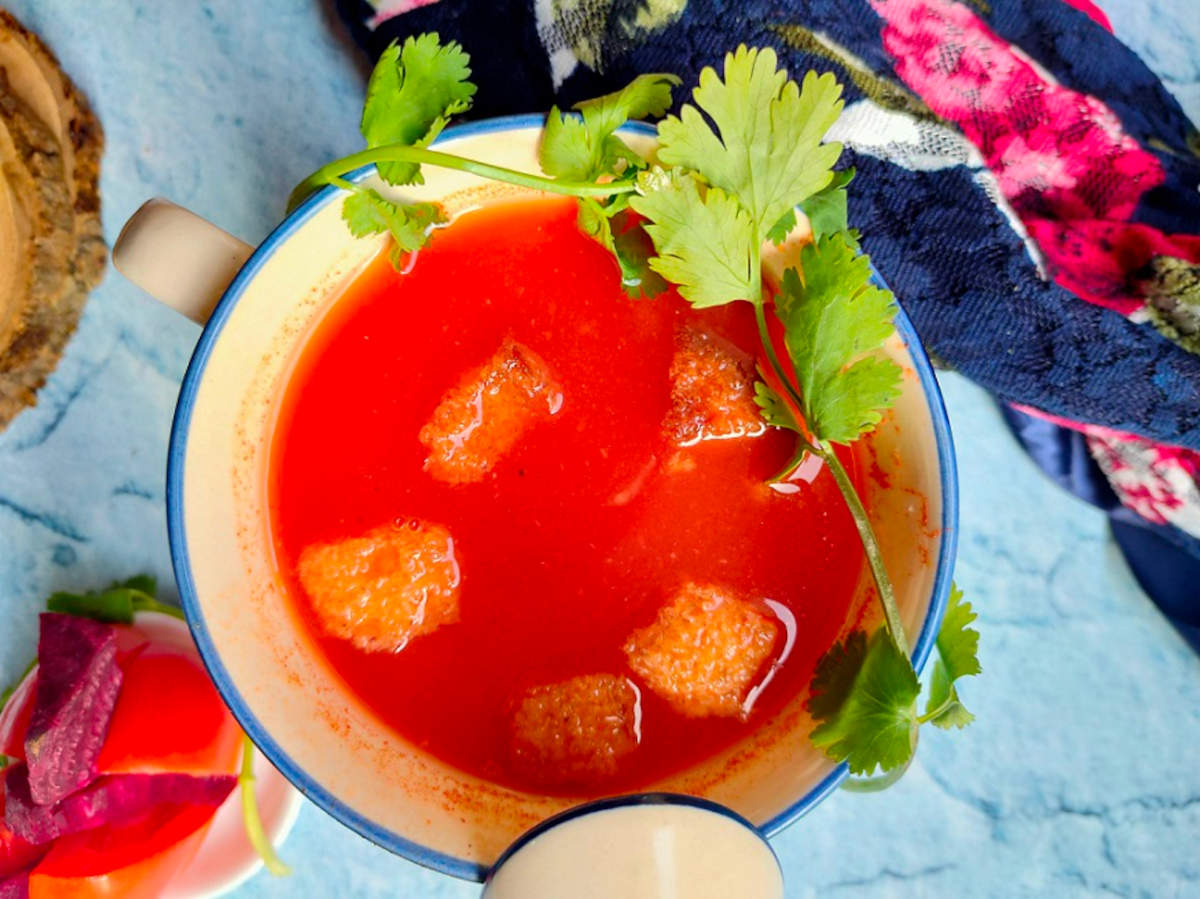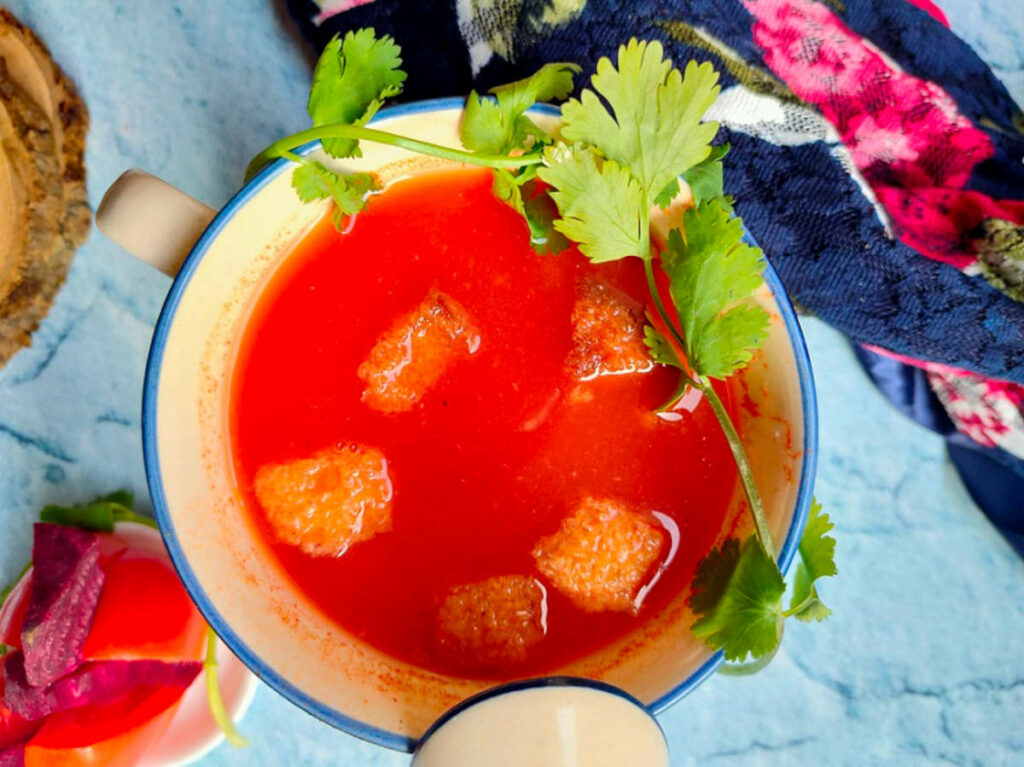 FAQs
What's the same as tomato puree?
This post answers this question in detail. The best substitute for tomato puree depends on the dish in question. For curries, you may use fresh tomato puree or canned crushed tomato. For pizza or pasta, you may use pasta or pizza sauce or marinara sauce.
What is a substitute for tomato puree in curry?
For curries, one may use fresh tomato puree or pumpkin puree.
---
You May Like The Latest Posts From the Blog: