How about using pink beets puree to make an amazing Healthy Tacos Treat that is wrapped around fresh and flavourful veggies along with Pumpkin Yoghurt Dip! You can't stay away from these Veg Beetroot Tortillas as they can be easily made at home!
Veg Beetroot Tortillas or Veg Tacos are Mexican dish that comprises of hand-sized corn or wheat tortillas with vegetable fillings. These Healthy Tortillas are made using beets puree blended in the dough of wheat and all-purpose flour.
This recipe of homemade Tacos is super easy and gathers in about 30 minutes. These tacos are made with fresh dough and are really soft. I had served them with a crunchy vegetable filling and Spicy Pumpkin Yoghurt Dip. This recipe is inspired by my own recipe of Whole Wheat Veg Crepes.
Ingredients Overview
All locally available vegetables for the filling: onion, tomato, corn, beans, capsicum. For the dough of tortillas, I have used all-purpose flour with wheat flour (1:1 ratio) and beet puree. One May make beet puree in a day advance.
Instead of beets, you may use Pumpkin or butternut squash, Zucchini, and carrots. The recipe would remain the same with these ingredients.
You may use any vegetables as the fillings for these easy vegetarian tacos. The dips like tangy mustard, spicy red chilli, or hung curd may be used.
Desi Ghee can be replaced by Olive oil or any other vegetable oil.
Recipe Insights
Made a dough using both wheat flour and all-purpose flour (Maida) along with beets puree.
Chopped veggies: onion, tomato, beans, capsicum, etc. Saute them in butter and grated garlic. Add salt, tomato ketchup, black pepper and mixed seasonings. It would be done in 5 minutes as crunchy vegetables suit this tortillas recipe best..
I have made these tasty vegetarian tacos on iron Tawa and applied ghee to cook on both sides. You may bake them also.
About the dip, I made an instant pumpkin chilly yoghurt dip and must say it was an awesome lunch we had that day!!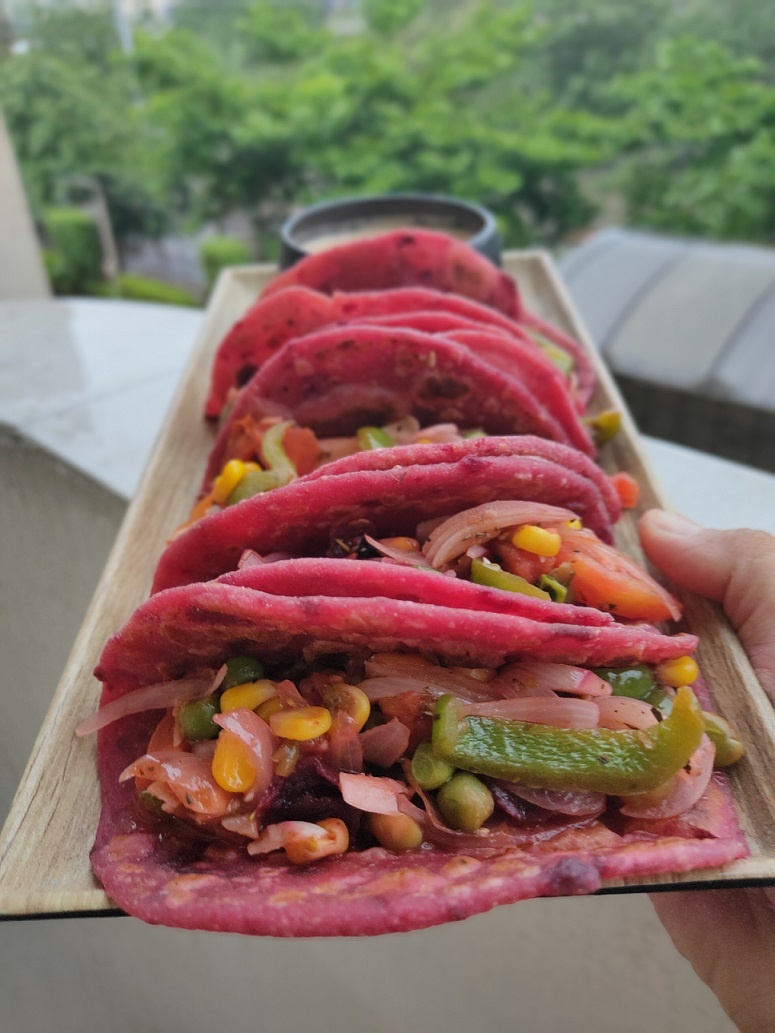 Can I bake the dough for Tacos shells?
I have rolled them and made fresh on a flat iron tawa. For baking them, you shall roll them thin and bake in preheated OTG or oven at 180 degrees for about 10 minutes. To get the shape of the tacos, you may place them on the grill rack and they would hole the shape of a taco shell.
Stories from Kitchen
I am a huge fan of Veg Tacos made by Dominos, making them myself was on my list for a long time. Experimenting with vegetables has become a new fun game. These 30 minutes roasted veggie tacos made my lunch scenes impressive and it was indeed a wholesome delicious meal!
How to make Tacos Vegan?
Surely this recipe is easily convertible to a Vegan Tortillas recipe. I had used desi ghee in making these tortillas. The only change required is to replace desi ghee with any other vegan oil like coconut, almond or simply refined oil.
I had used homemade curd, which can be replaced by a vegan curd.
Is it a weight-loss recipe?
If you are reading my blog, you know what my answer would be for this question.
There is no recipe that can lead to weight loss. If I say that this is a weight-loss recipe, but at the same time I eat a huge quantity of it, it would surely not help me lose weight.
Having said so, you may use only whole wheat flour in this recipe (I have used both Wheat and All-purpose flour in the same ratio). You may also use gluten-free flours like ragi, chestnut etc.
The idea is to have a good quantity of vegetables and hence fibre to control the fake hunger pangs. This recipe is kid-friendly too and helps fussy eaters have vegetables.
Why don't you try it and share your experience??
---
You may also like:
Healthy Salads for Weight Loss
---
If you make this recipe, share the image of it on our instagram account @veg.buffet or twitter account @vegbuffet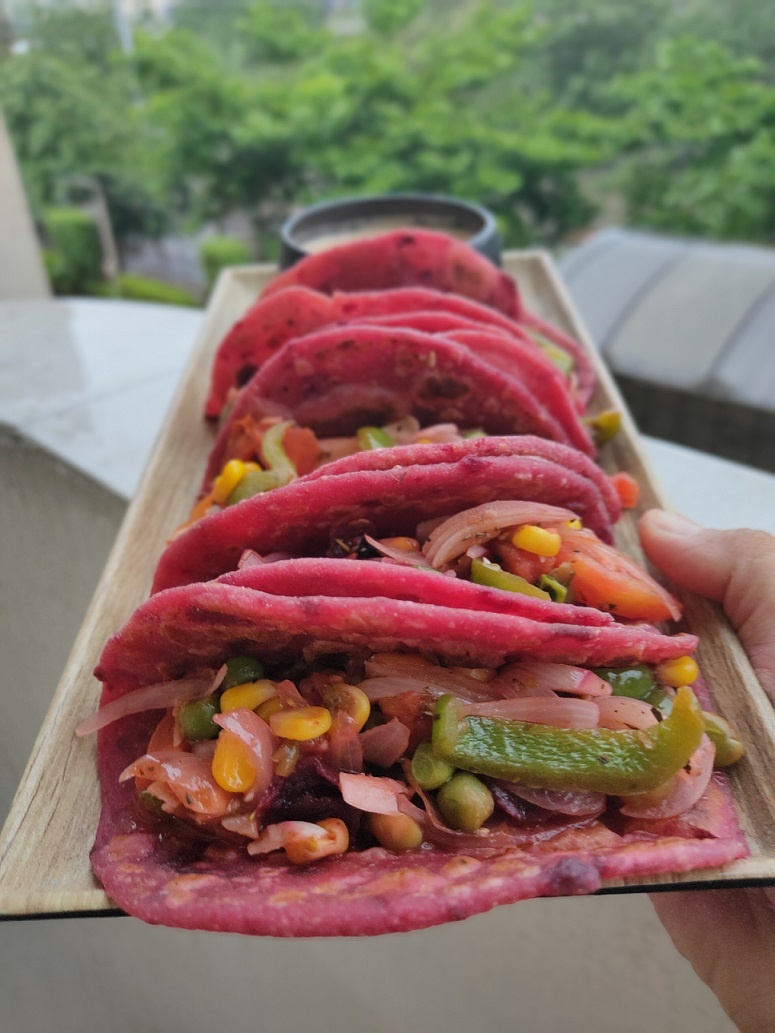 Veg Beetroot Tortillas
Veg Beetroot Tortillas or Veg Tacos are Mexican dish that comprises of hand-sized corn or wheat tortillas with vegetable fillings. These Healthy Tortillas are made using beets puree blended in the dough of wheat and all-purpose flour.
Ingredients
Beetroot tortillas
1/2

cup

Wheat flour

1/2

cup

maida (all purpose flour)

1

tsp

salt

1

tablespoon

Curd

water

as required

1/2

cup

beetroot puree

boiled, cooled and blended
Vegetable filling
1

large

onion

sliced

1

medium

tomato

sliced

1

medium

capsicum

sliced

1/4

cup

france beans

chopped in one inch

1.5

tablespoon

corn

1.5

tablepoon

peas

1

tablespoon

butter

6

cloves

garlic

grated

1.5

tsp

Oregano or mixed herbs

1

tsp

Tomato Ketchup

salt as per taste
Instructions
Gather all ingredients. Make sure to wash the vegetables under tap.

Take a container. Add wheat flour. Add Maida. Sprinkle salt.

Add beetroots puree.

Add curd.

Knead it in a not-so tight dough. Cover it for 5 min.

In the mean time, lets wash veggies and chop them.

Chop them as you like it.

Take butter in a pan and heat it. Once it melts add garlic. Dont over cook garlic as the burnt taste will take over the whole flavour.

Add veggies

Add tomato ketchup.

Add seasonings and cooking veggies for about 5 min is okay. let water evaporate. I like the crunchy veggies in these veggies. Switch off the flame and lets get back to our tortillas.

Take a portion of the dough.

Roll it. Size smaller than chapati and bigger than poori would be ideal.

Cook it like a paratha on iron tawa. Those who like hard texture , may bake them.

Once all tortillas are done, Spread them on a large wooden board.

Add your fillings.

Roll them nicely and keep together with dip. Serve them hot!! Enjoy!!
Notes
Nutrition Facts
Serving size: 1 taco
Servings: 7
Amount per serving
 
Calories
116
% Daily Value*
Total Fat 3.5g
4%
Saturated Fat 2g
10%
Cholesterol 7mg
2%
Sodium 37mg
2%
Total Carbohydrate 19.4g
7%
Dietary Fiber 4.2g
15%
Total Sugars 3.5g
 
Protein 3.5g
 
Vitamin D 1mcg
6%
Calcium 43mg
3%
Iron 2mg
9%
Potassium 296mg
6%
*The % Daily Value (DV) tells you how much a nutrient in a food serving contributes to a daily diet. 2,000 calorie a day is used for general nutrition advice.