Raw Mango chutney is first thing that I make when summers arrive. Belonging to a family of achar-chutney lovers, I cant be short of these accompaniments. fan of dips and chutneys.
A combo of parantha and Aam ki Launji (Raw mango chutney) is awesome!! Practically, all my life I had standard breakfast of Namak Ajwain paratha.
Sounds Boring??
Well, to me its not so long I get vegetables, chutneys, achars of my choice. Though now I make different breakfasts but paratha is my weakness. Yesterday, I had paratha with Amla Achar and Karele after a long time and it was superb.
Now that mango season is almost gone, this was my last batch of Launji and I got late in posting it too.
Recipe Insights
Being a rich source of Vitamin C , calcium and magnesium, raw mango is a healthy choice. Its rich in Niacin which helps in maintaining heart health too.
A recipe that meets both taste and health is always my preferred one. Some believe that achars and chutneys are not healthy.
I beg to differ.
I was never a fan of coriander leaves and avoided them. Knowing that its nutrient-rich, finally I decided to have it in small portions. So, I avoid leaf but I can now have it in the form of chutney.
Mix leaves of coriander, pudina (Mint), add spices, curd and grind to a thick paste..As far as achars are concerned, having them daily in all meals is something I would not do.
But having achar once a week is perfectly fine specially teaming it with Pulao or khichdi. We all know that it has extra salt and fat that should be avoided.
Eating in moderation is the key to a healthy lifestyle. Leaving a type of food wont boost your immunity as your body wont adjust to changes. Its similar to the concept of physical exercises. If I skip yoga for 10 days, my muscles would just not be co-operative the 11 th day!!
Enjoy while eating food and lets not make it a forbidden fruit to munch more on unhealthy snacks!!
---
You may also like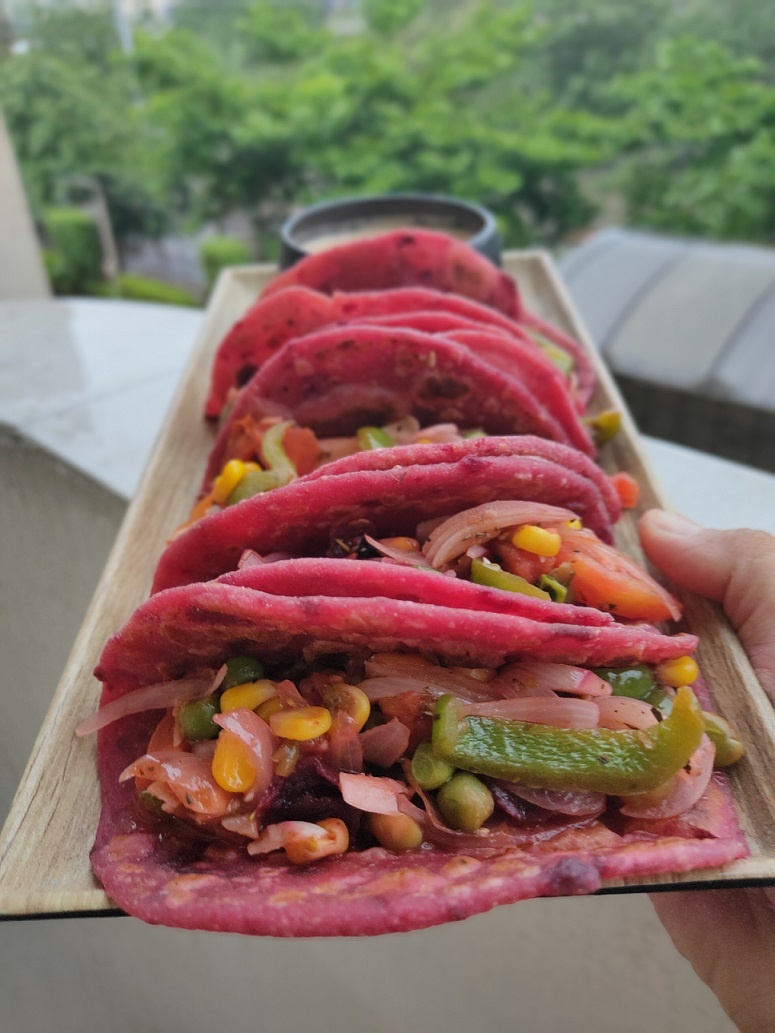 ---
If you make this recipe, share the image of it on our instagram account @veg.buffet or twitter account @vegbuffet
Raw Mango Chutney | How to make Raw mango (Kachhe Aam Ki Launji) Chutney
Raw Mango chutney is an sweet, spicy and tangy one made using Ambi (Raw mango) and is rich in Vit C, calcium and magnesium. It tastes best with paratha and poori.
Ingredients
2

small

raw mangoes

Ambi

1

tsp

Turmeric powder(haldi)

2

tsp

Red chilli powder (Lal Mirch)

1.5

tsp

Fennel Powder

1

tsp

Coriander Powder

1

tablespoon

mustard oil

salt as per taste

2

tablespoon

sugar
Instructions
Grate the Raw Mango. One can chop Ambi in medium uneven chunks as well. Recipe is similar. Its just that it tastes different.

Gather the spices. You may make it more spicy by adding more chilly.

Heat the oil and once it cools off, Add spices and add the grated raw mango. Add salt and mix well. Cover it with lid for 2 min and keep sauteeing in between.

It would leave water and would be sticky. Add sugar once it softens up and let sugar dissolve fully. evaporate the extra water and close the flame.

The Aam ki Launji/ Raw mango chutney is ready !! Serve with paratha or poori!!
Notes
Nutrition Facts
Serving size: 1 bowl
Servings: 1
Amount per serving
 
Calories
267
% Daily Value*
Total Fat 14.5g
19%
Saturated Fat 1.7g
9%
Cholesterol 0mg
0%
Sodium 3mg
0%
Total Carbohydrate 34.9g
13%
Dietary Fiber 2.4g
9%
Total Sugars 24.1g
 
Protein 0.8g
 
Vitamin D 0mcg
0%
Calcium 28mg
2%
Iron 1mg
7%
Potassium 91mg
2%
*The % Daily Value (DV) tells you how much a nutrient in a food serving contributes to a daily diet. 2,000 calorie a day is used for general nutrition advice.