[ultimate-recipe-jump] [ultimate-recipe-print]
Ragi pancakes are sweet flat cakes made in a pan or tawa using ragi flour, milk and are made without eggs. They can be made savoury too but then I would call them Ragi Cheela/ Dosa.
I am from a family who has been calculating nutrition and health quotients of foods from a long time. Thanks to my sister who is a food technologist and I learnt a lot about nutrition from her notes and books.
Knowing about several flours including Ragi was not a new thing to me. Its just that I was pre-occupied with so many other things, I made this recipe quite late in my blogging journey.
About Recipe
The recipe is quite an easy one and we need ragi flour, baking soda, milk and sugar. I had skipped sugar here as I had an overripe banana so instead of adding sugar, I used the banana. Yes it was not very sugary, yet it tasted nice. We topped it with maple syrup and it was amazing combo. I had used some coconut milk as well. It made a batter really creamy. The ragi flour is little dense so I mixed wheat flour with it and kept batter for 10-15 minutes before making the pancakes.
Tricks for great pancakes
There is a very simple trick for making amazing pancakes. The idea is to mix batter really well. Since we are not adding eggs, to make them soft and fluffy, we need to mix them gradually. So add sugar and butter / ghee in bowl and mix them till they are creamy. Since I have avoided sugar here, I had mixed banana with little ghee till it was creamy. Then add flour/ dry ingredients to it. Gradually add milk or other wet ingredients and beat them really good. Initially, it would be a very thick, then little thick and finally of pouring consistency. At that point add baking soda or powder else all the air would be freed in mixing the batter.
Why for diabetic patients?
Ragi or Finger Millet is a super food in itself. Being most nutritious cereal, its rich in fibre and is gluten-free. It has been recognised as "Diabetic Food" by doctors. They recommend it to make it a part of daily diet. Its rich in proteins, dietary fibre, calcium, iron and low in fat. It maintains the glucose levels in the body, keeps you full for longer and reduces the hunger pangs.
Can I have Ragi in grain form?
Yes. One can have ragi in grain or flour form. For Ragi porridge/ Daliya one may soak it in water and then roast it in a pressure cooker and have it as daliya or porridge by boiling.
Using as flour, one can make cheelas/ chapati or dosa. If you find it too dense or not very easy to use, you may mix it with wheat flour for dough and make chapatis or cheelas.
There are several ratios given online. Honestly, I go by my instincts. Twice a week, I make the multi grain roti and I mix wheat flour, chickpea (Besan) flour and ragi all in same proportion and add salt , ajwain to make a nice dough.
Can I Make it Vegan?
Yes. You need to replace dairy milk with vegan milk like coconut milk, almond milk etc. These milks can be slightly thicker than usual dairy milk. I would suggest you to add little warm water as the ragi flour is dense too. It would help you make a smooth batter. For toppings, you may skip the honey and use maple syrup.
Stories from my Kitchen
I have learnt cooking skills from my mother-in-law and she was an amazing cook. The first time she taught me how to make a poori dough, I thought to myself that I will never be able to cook. Yeah it was tough.
Taking water in less quantity to get a tight dough was not an easy game for a novice like me.
She was sure that I would be an amazing cook. She showed positivity at a time when I cooked really bad. This is her positivity that made me what I am today.
If you are new to cooking, dont lose heart. If you are not able to make anything right the first time, its not the end of your cooking journey. Rather its the beginning.
For getting all positive vibes, you may find your mentor and if you feel like, stay connected with me here and I am sure I can help bring the best in you!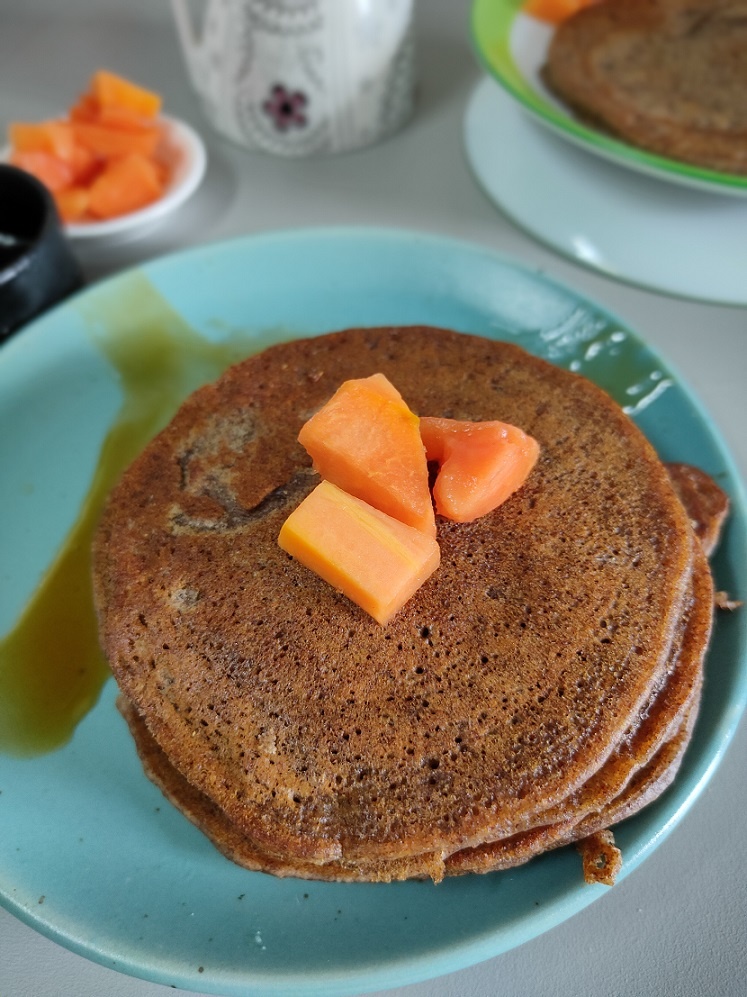 How delicious and heavenly these Ragi pancakes look!!
Why don't you try them and share your experience with me!!
---
You may also like-
If you make this recipe, share the image of it on our instagram account @veg.buffet or twitter account @vegbuffet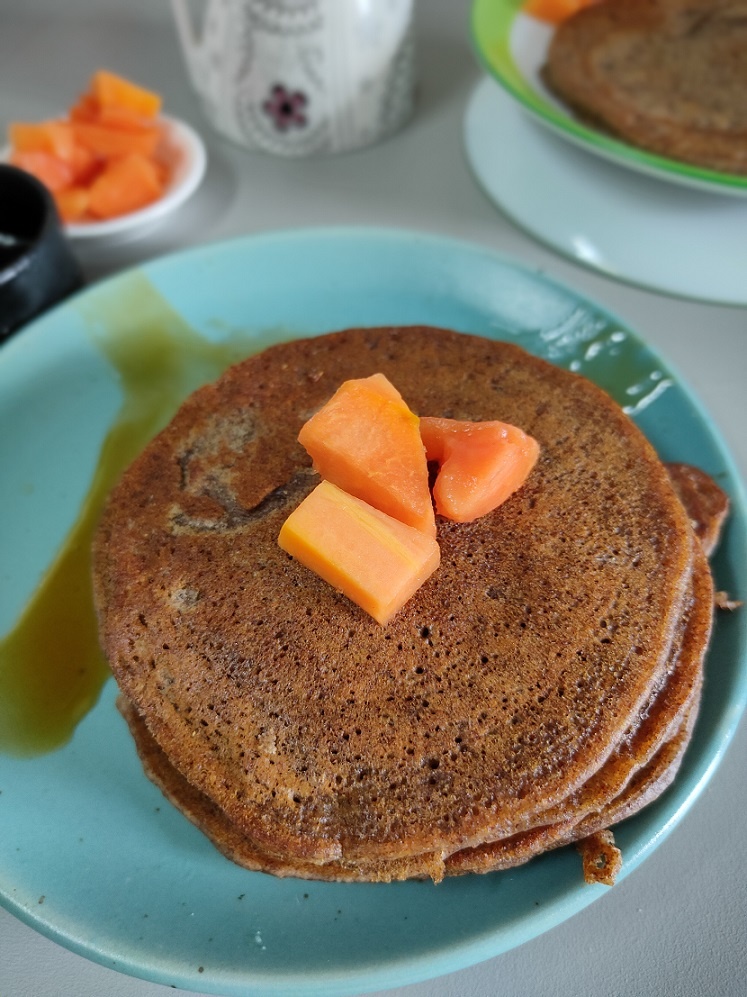 Ragi Pancake Recipe | Ragi recipes for diabetic patients
Ragi pancakes are sweet flat cakes made in a pan or tawa using ragi flour, milk and are made without eggs. They can be made savoury too but then I would call them Ragi Cheela/ Dosa.
Ingredients
1

medium

ripe banana

1

cup

ragi flour

1

cup

Wheat flour

1

tsp

cinnamon and cardamom powder

1.5

tablespoon

Desi ghee

3/4

cup

milk

can adjust as per flour quality

1

tablespoon

maple syrup

optional can use caramel or honey for garnishing

1

tablespoon

coconut milk

1/4

tsp

baking soda
Instructions
Gather all the ingredients. In case you dont have banana or you dont wish to add it, you may simply add sugar. I had skipped sugar as I aimed to make it for diabetic people.

Take the banana in a large bowl. Mash it with fork. If its ripened, it would be easily be mashed with two strokes.

Add little milk to mashed banana and mix it really well.

Add cinnamon and cardamom powder.

Add Ragi Flour.

Add wheat flour. It would have a texture like bread crumbs.

Keep mixing and adding milk gradually.

It should have a dropping consistency like a usual cheela batter (neither very thin nor very thick).

Add a pinch of baking soda. Mix gently and cover it for 10-15 min.

Heat a tawa and apply some oil / ghee on it. I have used a ceramic non-stick tawa. Make sure that Tawa is hot and not cold or else batter would stick to it. Once hot, make flame on simmer. Take ladle full and spread it of a size like a poori . I had a large tawa so I could spread two at one go.

Cover them with a lid. Flame should be simmer.

You shall notice few bubbles on the top side. That means bottom is almost done and we can reverse the pancake. Apply some ghee and flip it to cook from the other side.

It would look dark brown as the ragi flour is darker in shade.

Once done, gently pick them and make a stack of these pancakes.

The ragi pancakes are ready.. Top them with your choice of syrup: caramel, honey or maple syrup. Enjoy !!
Notes
Nutrition Facts
Serving size: 1 pancake
Servings: 6
Amount per serving
 
Calories
146
% Daily Value*
Total Fat 4.3g
5%
Saturated Fat 2.5g
12%
Cholesterol 6mg
2%
Sodium 16mg
1%
Total Carbohydrate 24.2g
9%
Dietary Fiber 3.2g
11%
Total Sugars 3.9g
 
Protein 4.4g
 
Vitamin D 0mcg
1%
Calcium 44mg
3%
Iron 1mg
5%
Potassium 176mg
4%
*The % Daily Value (DV) tells you how much a nutrient in a food serving contributes to a daily diet. 2,000 calorie a day is used for general nutrition advice.