These Delicious Low Calorie Pumpkin Vegetarian Recipes are made using Pumpkin Puree or raw Pumpkin and are a collection of healthy and quick recipes. Could you believe that a pumpkin is much more than a Kaddu vegetable?
Pumpkins are not only a fall favorite but also a nutritious ingredient packed with vitamins, minerals, and fiber.
Get this amazing collection of simple and easy Pumpkin Vegetarian Recipes that are flavorful, delicious and are made from the pantry ingredients.
Whether you're looking for comforting soups, hearty mains, or delectable desserts, these low cal pumpkin recipes will be healthy and delicious at the same time.
Welcome, this Fall with our Healthy Pumpkin Recipes that are Vegetarian, egg free, a few are vegan and GF or can be easily made vegan and GF with simple swaps.
Grab your Pumpkin fruit and don't worry about what to make of it! These collections have Superb pumpkin recipes inspired from Indian and World Cuisine that are super easy and healthy and can be served as a snack, breakfast or a dinner meal!
Why Would You Love These Pumpkin Recipes?
Healthy, Low Calorie and Homemade.
Uses Fresh Ingredients.
Few are Vegan and GF
From salads, pancakes to Parathas and Smoothie, these pumpkin recipes are versatile and exotic!
The Best Pumpkin Vegetarian Recipes!
What makes these Pumpkin Recipes Healthy?
Pumpkin is a super healthy fruit. It entirely depends on how we use it to create recipes. The same pumpkin can make healthy or unhealthy recipes. If you use loads of refined sugar/ cream or extra salt/ sauces, indeed the pumpkin recipes won't have the Health Quotient.
These vegetarian pumpkin recipes have been made using homemade fresh puree (instead of canned) or freshly grated pumpkin and have used sugar, oil/ ghee/ salt only as much as required. They are easily convertible to Vegan Pumpkin recipes.
Savory pumpkin recipes are made using green and dessert ones are made using orange pumpkin.
These recipes don't require many ingredients and can be prepared by using raw pumpkin or pumpkin puree.
Pumpkin puree is obtained by boiling raw pumpkin for a whistle or two in a pressure cooker and then mashing it using a fork (after peeling off the skin) or blending it. This puree remains good for about 3-4 days (in winters) and 1-2 days (in summers) and can be made in advance for planning ahead of the recipe.
Why Pumpkin is a super food?
Has more Vitamin A than Mango
An immunity-booster food
Low-calorie humble fruit
High in fibre makes it a weight-loss friendly food
Decreases cholesterol levels and balances sugar-level [1]
Collection of 14 Low Calorie Pumpkin Vegetarian Recipes
Who wishes to indulge in Healthy Pumpkin pancakes made using fresh pumpkin puree, desi ghee, and absolutely without eggs! The key to getting fluffy and crisp pancakes is to add a little oil/ ghee to the batter and let the batter rest for 5-10 minutes.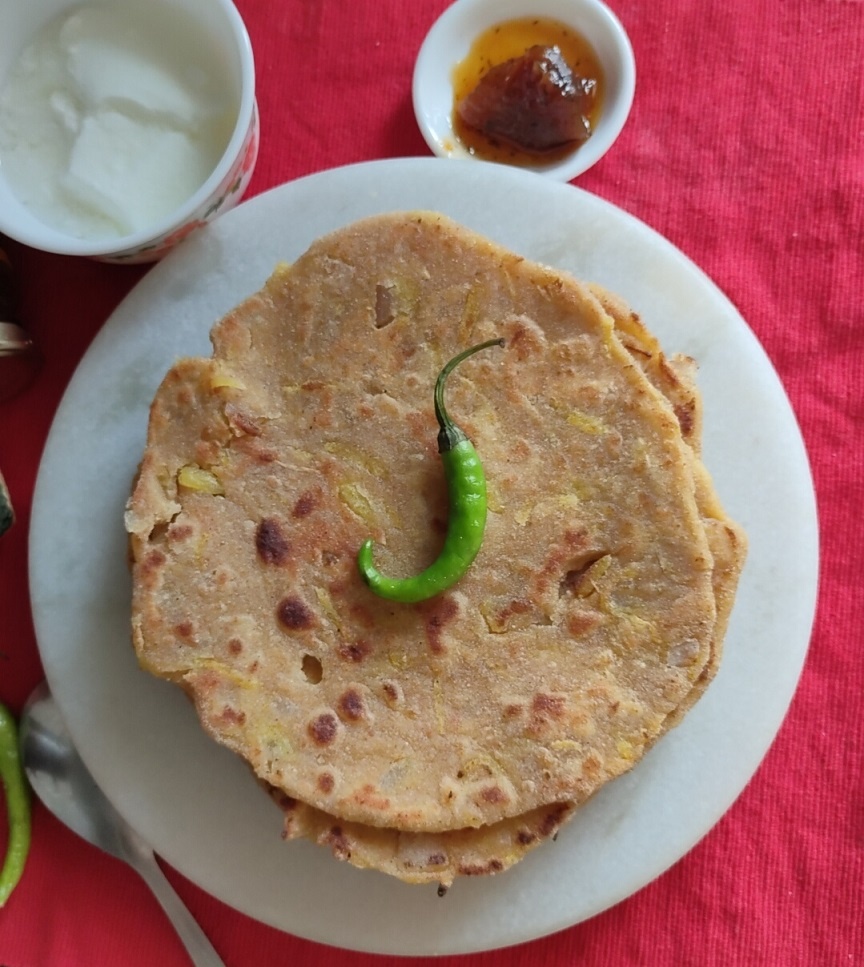 This Pumpkin Paratha is made using wheat flour and desi ghee. The raw grated pumpkin is added to the wheat flour dough while kneading along with salt and spices. Then make a flat chapati on a rolling pin and cook it on iron Tawa. Use desi ghee while cooking. One can make a Pumpkin roti as well.
These Vegan Pumpkin Cutlets are super easy to make and can be dunked into a dip or veg soup. Add Chickpea flour, onion, green chilies, spices to grated raw pumpkin and make small balls of any shape from the dough. These pumpkin cutlets are pan fried. One may deep fry or air- fry them too.
Are you willing to have a homemade Pumpkin Spice Latte that tastes heavenly like Starbucks one?
Grab this recipe of quick Pumpkin Cold Latte that gathers up sooner than your trip to any cafeteria!
Pumpkin Aloo Tikki Burger is a delicacy made at home in a super-easy way. The Pumpkin Aloo Tikki is totally vegan tikki made in mustard oil and can be spread over a taco or sandwich too.
Pumpkin Halwa or Kaddu ka halwa is an easy recipe of sweet pumpkin made in desi ghee and flavoured with Cardamom. Indian Halwa means sautéing flour/ vegetable in desi ghee on simmer. When it gives a good fragrance and is roasted enough, we add sugar and water. One may add chopped dry fruits.
This is the perfect recipe to make on religious occasions and for kids as well.
Make this fall Special with this Roasted Pumpkin Spinach Salad that is incredibly tasty, flavorful, rich in Vitamin A, C, iron, calcium, proteins, and good fats. Could you resist a palatable Pumpkin Salad garnished with peanuts and sesame?
Trust me, this healthy vegan salad won't disappoint you and would help you meet your weight-loss goals.
This Healthy Pumpkin Protein Smoothie is a smooth blend of boiled cooled pumpkin puree, banana, sugar and milk. If you use vegan milk, that would easily make a vegan pumpkin smoothie without any recipe changes. Skip the sugar and make this pumpkin smoothie perfect for a weight loss plan.
Could you believe that making Pumpkin Muffins without refined sugar and without eggs is totally possible? You still get those soft pillowy muffins that can be topped with caramel or cream cheese for the ultimate taste!
Healthy Pumpkin Pasta made using fresh pumpkin sauce, onion, capsicum and can be made in 15 minutes. This pumpkin pasta can be had as a breakfast or an evening snack.
This Pumpkin ice cream is easy and flavored with Mango. A total delight in the summer.
Pumpkin Puree is the most important for creating many pumpkin dessert recipes. Making it without an oven is so much possible. We just need to boil for a whistle. Peel and mash it to make a smooth pumpkin puree. One may use a blender as well.
These pumpkin rolls are made absolutely without egg and any cream. They are flavoured with pumpkin spice and are made on the stove top without oven.
FAQs
---
More Healthy Vegetarian Recipes for Weight Loss: