Kacche Kele Ki Subji/ Raw Banana Subji is a popular south Indian poriyal dishes. Its a simple recipe and one can always adjust the ingredients and spices as per the taste and availability.
This is the healthy version of the recipe where in I have avoided the use of garlic and onion and used minimum oil (mustard) required for cooking. I believe that the vegetables taste better if they are not dominated by strong flavours of onion and garlic.
One may make a grated raw banana poriyal or chopped ones. I have used fresh chopped raw banana to make it. A simple 10 min recipe that tastes wonderful.
Nutrition in Raw Banana
Raw bananas are fibre-packed, rich in Vitamin C, Vitamin B6, potassium are amazing food for heart and body and maintaining blood pressure.
Being low in glycemic index, the sugar released from food is a slow process and hence this poriyal is an ideal food for diabetics.
People on weight-loss plans can also safely choose raw banana in their diet as it keeps full for longer and one skips the binge eating.
Ingredients Overview
I have used raw banana, kadi patta (Curry leaves) and spices like turmeric, garm masala, green and red chillies, and lemon juice sauteed in mustard oil.
One may use coconut oil and grated coconut in garnishing to enhance the flavour of the poriyal.
Recipe Insights
Its around 10 minute recipe. Chop and soak the raw banana slices for 2 minutes. Heat and cool off Mustard oil. Add spices and curry leaves. Add Banana with salt and cover it with lid. Keep sauteing till it becomes soft. It takes around 5-10 min.
What are side-dish with raw banana
One may choose to have chapati, paratha or rice as per their liking along with curd and pickle. Being a north Indian, eating paratha comes as a natural choice to me.
Stories behind recipes
Banana has always been my favourite fruit. I never thought that I would ever make a banana poriyal. Raw banana has been a forbidden fruit as we always are inclined to native tastes. Since a kid, I had liking for South Indian food and over years, I had learnt it from several South-Indian friends.
The first South Indian acquaintance was my history teacher. Back then, I hardly knew about varieties in foods. Being a good student and kid were only priority.
Luckily, in the eyes of mam, I was a good student (though I would rate me as an average-performer) and I had admired her for everything from her simplicity, being straight-forward and the Chandan Tikka that she wore on her forehead.
Little did I know that I had become fond of her and she would leave the school soon. Destiny decided to make us connected. One year later, I was asked from another teacher to post a letter.
Yes!!!
Lucky me..
From the Inland Letter, I got the address of my favourite mam!!
And there I sat down to write my first letter at the age of 12 years and hiding it as if it was a love letter. The best thing was that I got response soon thereafter.
And the story went on like this for years till we both moved from our earlier locations and lost contact. Still the search is on and I look for her on every social media!
Who knows when can I be lucky again!
Recipe in detail with Steps
1) Wash the raw banana. Peel and chop in thin slices and soak them in fresh water.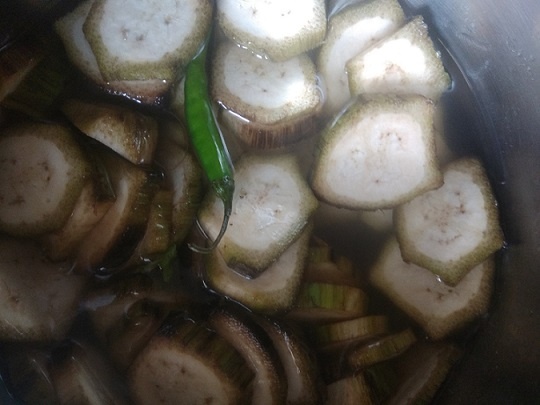 2) Take Mustard Oil and burn it. Once it cools off, add spices like jeera, red chilly powder, coriander powder, haldi and green chillies. Immediately add chopped banana. Add salt and mix well.
3) Cover it with lid and let it cook in steam. Keep sauteing in between. It takes around 5-10 minutes to cook it. Once done add lemon juice, Curry leaves, garm masala.
4) Your raw banana poriyal is ready!! Serve it with your choice of rice or chapati!
Tips to make any vegetable
Whenever you are making a dry vegetable, you can keep a bowl of water over the lid. This tip has worked for years and makes sure that the veggie is cooked with oil just required without sticking it to the bottom of pan.
Iron vessels and earthen vessels are amazing not just for making a healthy vegetable but also for delicious one.
---
You may also like
More South-Indian Recipes:
---
Check Latest Recipes
---
If you make this recipe, share the image of it on our instagram account @veg.buffet or twitter account @vegbuffet