These Low Calorie Pumpkin vegetarian recipes are made using Pumpkin Puree or raw Pumpkin and are a collection of healthy, quick, and tasty recipes. Could you believe that a pumpkin is much more than a Kaddu vegetable?
Pumpkin is a bundle pack of nutrition, a super food that can be used to make several desserts and savory dishes in a super easy and healthy way!
Healthy Pumpkin vegetarian recipes are made using Pumpkin (green or orange) in a simple homemade way.
Welcome, this Fall with our Healthy Pumpkin Recipes.
Grab your Pumpkin fruit and don't worry about what to make of it! These collections have amazing pumpkin recipes most of which are super easy and all of them are indeed healthy! If you are looking for Pumpkin Weight Loss recipes, you are absolutely on the right page!
What makes these Pumpkin Recipes Healthy?
Pumpkin is a super healthy fruit. It entirely depends on how we use it to create recipes. The same pumpkin can make healthy or unhealthy recipes. If you use loads of refined sugar/ cream or extra salt/ sauces, indeed the pumpkin recipes won't have the Health Quotient.
These vegetarian pumpkin recipes have been made using homemade fresh puree (instead of canned) or freshly grated pumpkin and have used sugar, oil/ ghee/ salt only as much as required. They are easily convertible to Vegan Pumpkin recipes.
Savory pumpkin recipes are made using green and dessert ones are made using orange pumpkin.
These recipes don't require many ingredients and can be prepared by using raw pumpkin or pumpkin puree.
Pumpkin puree is obtained by boiling raw pumpkin for a whistle or two in a pressure cooker and then mashing it using a fork (after peeling off the skin) or blending it. This puree remains good for about 3-4 days (in winters) and 1-2 days (in summers) and can be made in advance for planning ahead of the recipe.
Why Pumpkin is a super food?
Has more Vitamin A than Mango!!
An immunity-booster food
Low-calorie humble fruit
High in fiber makes it a weight-loss friendly food
Decreases cholesterol levels and balances sugar-level
1. Healthy Pumpkin Pancakes Without Egg
Who wishes to indulge in Healthy Pumpkin pancakes made using fresh pumpkin puree, desi ghee, and absolutely without eggs! The key to getting fluffy and crisp pancakes is to add a little oil/ ghee to the batter and let the batter rest for 5-10 minutes.
2. Pumpkin Paratha/Wheat Flat Bread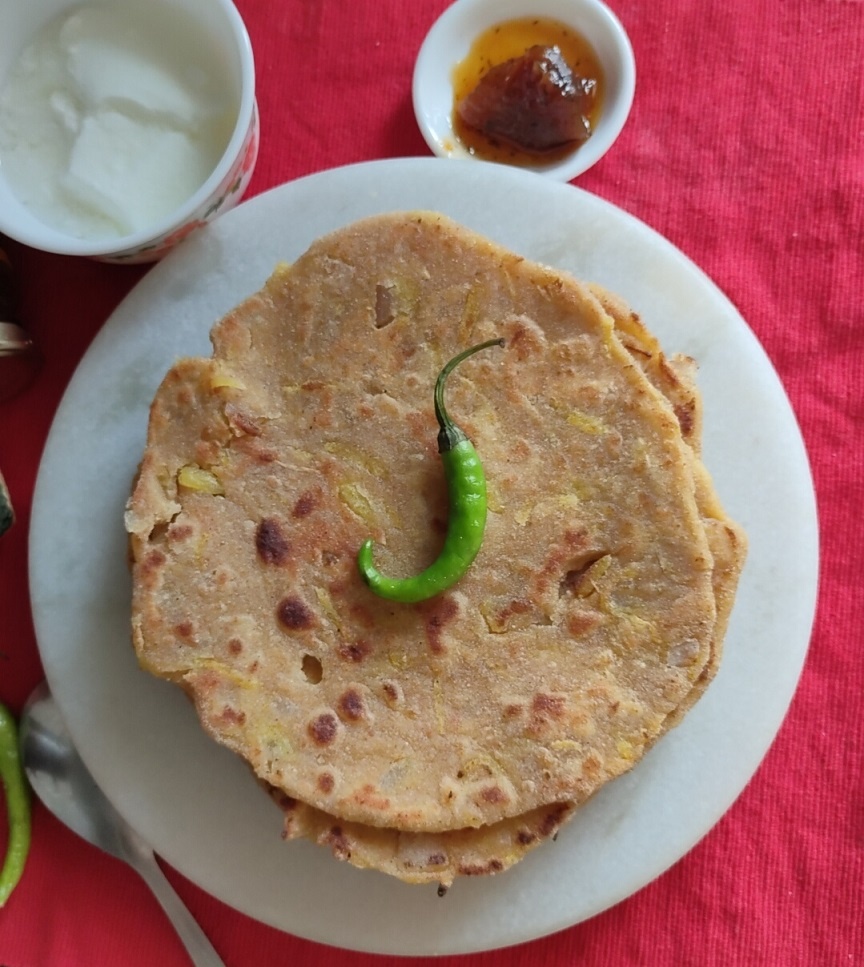 This Pumpkin Paratha is made using wheat flour and desi ghee. The raw grated pumpkin is added to the wheat flour dough while kneading along with salt and spices. Then make a flat chapati on a rolling pin and cook it on iron Tawa. Use desi ghee while cooking. One can make a Pumpkin roti as well.
3. Pumpkin Sandwich
4. Pumpkin Cutlet Recipe
These Vegan Pumpkin Cutlets are super easy to make and can be dunked into a dip or veg soup. Add Chickpea flour, onion, green chiliies, spices to grated raw pumpkin and make small balls of any shape from the dough. These pumpkin cutlets are pan fried. One may deep fry or air- fry them too.
5. Iced Pumpkin Spice Latte
Are you willing to have a homemade Pumpkin Spice Latte that tastes heavenly like Starbucks one?
Grab this recipe of quick Pumpkin Cold Latte that gathers up sooner than your trip to any cafeteria!
---
More Healthy Vegetarian Recipes for Weight Loss: