Looking for a Healthy Paneer Recipe?
This Homemade Quick Palak Paneer promises to be healthy and delicious! Let's make this winter special by choosing to have fresh spinach leaves and desi ghee. Find out how little tweaks to the traditional Palak Paneer make it an easy recipe for busy people!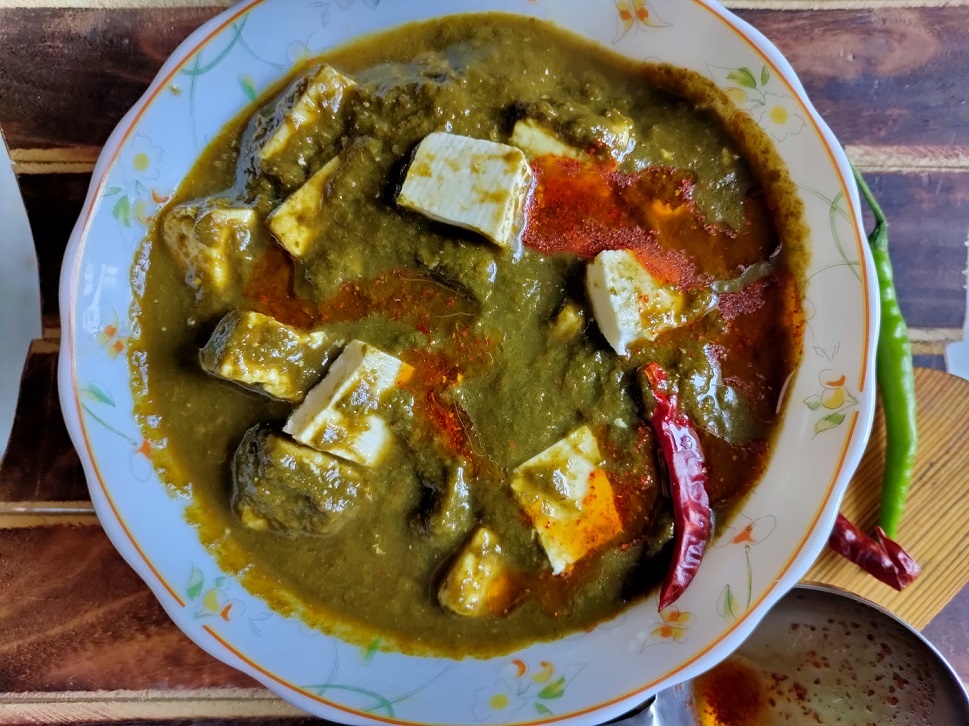 Healthy Palak Paneer is a gluten-free recipe that is made using fresh spinach or palak leaves (boiled and blended in a paste) with paneer added to this palak gravy. It is one of the most popular main courses of Indian cuisine made in winter. Winters are absolutely dull without green leafy vegetables like methi, palak, saag, and bathua. My day begins with a bathua paratha almost daily in winter. I believe most of us are so pleased to know when lunch or dinner has methi or makki ki roti with sarson ka saag.
This recipe of low-calorie Spinach Paneer is made in one pot and is absolutely made without any cream. The traditional recipe involves boiling spinach leaves, cooling and blending, and then tempering them with onion, garlic, and tomato. I have made little tweaks to it in order to make it quick and yet super healthy and delicious. If you are looking for easy paneer recipes, you have landed on the right page!
Ingredients Overview
You need fresh Spinach (Palak) leaves and if you don't have spinach locally available, feel free to use your local greens like Kale. Though I haven't tried this recipe with Kale leaves, I guess they would be a good substitute. Looking forward to my readers sharing their experiences.
I had boiled freshly sorted and washed spinach leaves along with Onion, Garlic, Ginger, tomato, and green chilies. Once it cools off, blend it and add raw paneer along with a tempering of Red Chily, Jeera (Cumin), Heeng in Desi Ghee!
How is this recipe of Palak Paneer Healthy?
This recipe makes no use of any cream!
I think this answers 80% of your question. We all know that Indian dishes made in restaurants are made tasty by deliberately adding extra cream or butter and however great they may taste, they are totally unhealthy. Heating Butter over and over again is not doing any good to your heart.
I have added warm Desi ghee Tadka at the last when the whole dish is ready.
I prefer to use the freshly sorted spinach leaves, not the frozen ones. It is a blend of rich nutrients like Calcium, Iron, Potassium, Vitamin A & C, and loads of loads of fiber and protein.
Busy friends have thanked me after trying this healthy recipe of Palak Paneer. You can totally control the amount of ghee that goes in the spinach gravy. Personally, I always add mirch ki Tari (Red Chili powder slightly roasted in Desi ghee) to Palak Paneer and for that matter to every gravy dish. That's because Ghee is indeed a healthy fat required by the body.
What to team Palak Paneer with?
You may have Homemade wheat Paratha, chapati, or rice with palak paneer.
Is Palak Paneer Good for Weight-Loss?
If you are following me, you already know how I react to this question. To achieve weight loss, you have to eat the right food in the right proportion at the right time.
To answer your query, yes choosing homemade vegetables and food over market ones is the best choice to sustain through the weight-loss journey.
This recipe is a bundle pack of healthy nutrients and fiber-rich spinach that keeps you full for longer. [1]
Similar Recipe Sugggestions
One may also try making Saag Paneer or Methi Paneer, Aloo Methi, Dal Palak (Lentil Spinach Curry). If fresh spinach leaves are not available, one may use Kasuri Methi (dried fenugreek leaves). They taste amazing in Methi Malai Matar. I prefer using fresh leaves over frozen ones as the fresh spinach leaves take the recipe to another level.
Can I use Homemade Paneer?
Yes! You may use homemade paneer / Indian cottage Cheese. You may curdle the milk using lemon juice and sautee it on simmer for about 15 min (or more depending upon the quantity of milk). For about 1 litre of milk, you may get approx 150 gms of paneer. Since Paneer is my first love, I made Healthy Paneer Tikka for weight loss.
What is the difference between Saag Paneer and Palak Paneer?
Palak Paneer is made using spinach leaves whereas Saag can be made of Mustard green leaves also called Sarson, or bathua ( Chenopodium Album) or any winter greens mixed in a known ratio.
Like I make Sarson ka saag by using 1 kg sarson leaves, 250 gm palak leaves, and 250 bathua leaves. I think being an Indian, loving green leafy veggies comes naturally to us, and topping it with desi ghee, teaming them with chapati loaded with white butter makes it an ultimate delight that no dish could really match.
How can I make Vegan Palak Paneer?
To make this recipe of palak paneer vegan, you may use Tofu instead of Paneer and replace desi ghee with any other vegetable oil.
How to make Instant Pot Palak Paneer?
The procedure is almost the same as that with the pressure cooker. Add ghee, spices, onion, tomato, garlic, ginger (all roughly chopped) to the instant pot along with washed chopped spinach leaves. Set it on pressure mode for about 3-4 min. Once it beeps, cool it off, blend, and add salt and paneer. Cook for 2 min and your delicious palak paneer in the instant pot is ready.
If you make this recipe, share the image of it on our Instagram account @veg.buffet or Twitter account @vegbuffet
Healthy Palak Paneer | Paneer in Spinach Gravy
Healthy Palak Paneer is a gluten-free recipe that is made using fresh spinach or palak leaves (boiled and blended in a paste) with paneer added to this palak gravy. It is one of the most popular main courses of Indian cuisine made in winter. Winters are absolutely dull without green leafy vegetables like methi, palak, saag, and bathua.
Equipment
Pressure Cooker

Colander

Blender
Ingredients
800

gm

Palak leaves

fresh and sorted (8 -10 cups)

300

gm

Paneer/ Indian Cottage cheese

can replace with Tofu

a

pinch

Heeng (Asafoetida)

optional

1

teaspoon

Jeera

2

small

tomato

1

large

onion

2-3

small

green chily

optional

3

cloves

garlic

1

teaspoon

grated/chopped ginger

1

teaspoon

haldi

2

teaspoon

red chilly powder

1

teaspoon

Amchur powder

replace by lemon juice

1

teaspoon

Garm masala

optional

1

tablespoon

Desi Ghee

salt as per taste
Instructions
Sort and wash the spinach/ palak leaves under running water in a colander. This step is really important. The yellow leaves or rotten ones shall be discarded. You may feel free to roughly chop them. I skipped that step as we have to anyway blend the boiled leaves.

Take a pressure cooker and add washed palak leaves to it.

Note: Don't add any extra water as Spinach is full of water and you don't need any water for boiling it in a pressure cooker like other recipes. In fact, in my experience, if we add any water at this step, palak tastes really bitter.

Add roughly chopped tomato, ginger, garlic, onion, and green chilly. Pressure cook it on full flame for 2 whistles and then simmer for 5 min.

Let the pressure cool off. Once it completely cools off, transfer the boiled spinach and veggies to a blender and blend for a smooth paste. You may use a hand blender too.

If you like not very smooth paste, use a hand blender. It depends on how you want it.

The paste looks like as shown in the image. Depending upon the size of the jar, you may have to blend in 1-2 steps.

In the same pressure cooker, I had made a desi ghee tadka to the boiled palak. You may use Kadai. Since palak splatters a lot while cooking, I prefer a utensil with height.

Add desi ghee to the same pressure cooker (Note: we don't need any pressure boiling now). Add heeng and jeera

Once jeera cracks, add haldi and red chilli powder. Make sure the flame is simmer or else spices might get burnt.

Add blended palak paste to this tadka. Let it cook on simmer for about 10 min. It would have some moisture in it. Let it absorb that moisture.

Then add chopped pieces of paneer. Paneer leaves the water. So cook for another 5 min and add salt, garm masala, and amchur/ lemon juice.

The Delicious and Healthy Palak Paneer is ready. top it with my choice of Mirch ki tari and trust me you would always make palak paneer in this super-easy way. Enjoy!
Notes
Nutrition Facts
Serving size: 1 bowl
Servings: 5
Amount per serving
 
Calories
207
% Daily Value*
Total Fat 12.9g
17%
Saturated Fat 1.3g
6%
Cholesterol 3mg
1%
Sodium 155mg
7%
Total Carbohydrate 12.1g
4%
Dietary Fiber 4.3g
15%
Total Sugars 2.3g
 
Protein 14.1g
 
Vitamin D 0mcg
0%
Calcium 207mg
16%
Iron 5mg
30%
Potassium 774mg
16%
*The % Daily Value (DV) tells you how much a nutrient in a food serving contributes to a daily diet. 2,000 calorie a day is used for general nutrition advice.
---
You may also like:
More Weight-Loss Veg Recipes
Latest Popular Posts from the Blog