[ultimate-recipe-jump] [ultimate-recipe-print]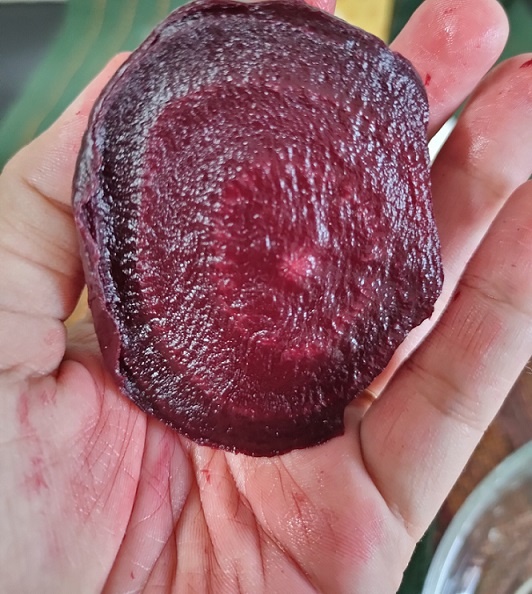 Beetroot Muffins are the simplest creation of mine and I really admire the natural pink color of these beets. Peeling, Chopping , blending them makes my hand full of pink shade and so does my kitchen cloth as I am to messy when I work in Kitchen.
Why Beets?
Well, my husband seems to be bored from chocolates and my daughter is loving the pink color of beets and it just occurred to me why not try beet desserts. Around the same time, my daughter had an assignment from school to make some dish with parents' help. Now that was quite a challenging one. A mother who is a home chef and a blogger means I had to come up with an interesting idea.
See ...Lot of responsibility on my shoulders!!
I always take inputs from my daughter specially when it comes to her own tasks. I would not ask her to draw/ paint or write. I give her some space and let her take the lead. Over years, I noticed that this has inculcated in her a sense of ownership and she feels great that her inputs are considered. This makes her independent and confident too.
When I asked her what she really wants to cook with me, her instant response was muffins.
That helped me put a creative hat and I thought why not add her favourite pink color to them.
Recipe Insights
I had beets lying in my refrigerator and all I did was boil them for 2 whistles. Cool and blend in a paste.
Rest is easy peasy. We mix butter and sugar very well and give a good mix of beetroot puree and APF (Maida) with baking soda and baking powder and transfer it to the paper cups. I baked them in my old OTG for around 10 min. They came out really well.
Why dont you give them a try and tell me how it turned out?
---
You may also like-
Mashed Potatoes Salad with Sprouts
---
If you make this recipe, share the image of it on our instagram account @veg.buffet or twitter account @vegbuffet
Healthy Beetroot Muffins | How to make eggless beet muffins
Healthy beetroot muffin is an amazing dessert. With nutrition of beets and flavour of cinnamon, they make a perfect snack for the evening!
Ingredients
½

cup

APF All purpose flour or Maida

Can use Wheat flour

½

cup

beet puree

can boil and blend a day in advance

½

cup

sugar

can adjust as per taste

1

teaspoon

cinnamon and cardamom powder

1

tablespoon

butter

½

cup

milk

½

teaspoon

baking soda

¼

teaspoon

baking powder

1

tablespoon

Desi ghee
Instructions
Gather the ingredients. For beet puree, you may boil the beetroot for 2 whistles. Cool it and blend it. I made it a day in advance.

Take a large bowl. Add Butter to it. Since I have used salted butter, I have not added any salt in this recipe.

Add Sugar and mix it well. It takes around 3-5 min. This step is important as we are making an eggless muffin. So more we mix it, softer and fluffy the muffins are.

Add Cardamom and cinnamon powder, Desi Ghee and Milk.

Add beetroot puree.

Sieve APF, baking soda and baking powder in the wet mixture.

Mix it gently and not over do this step as muffin might lose the air. Use cut and fold method to mix. If need be, you may add more milk at this stage.

Mixture has the perfect pink color.

Transfer it to the paper cups and muffin mould.

Bake it in OTG for 10 min at 180 degrees. You may preheat the OTG at 100 degrees for 5 min. You might keep a check and if the knife comes clean after rising of muffins, you may switch off and take them out.

This is taken about five min of baking.

Carefully take them out as they would be super hot,. Let them cool for sometime. then gently take out.

Our delicious and colorful Beetroot Muffins are ready!! Serve them with tea or coffee.
Notes
Nutrition Facts
Serving size: 1 muffin
Servings: 6
Amount per serving
 
Calories
139
% Daily Value*
Total Fat 4.2g
5%
Saturated Fat 2.6g
13%
Cholesterol 11mg
4%
Sodium 34mg
1%
Total Carbohydrate 25.3g
9%
Dietary Fiber 0.4g
2%
Total Sugars 17.3g
 
Protein 1.2g
 
Vitamin D 1mcg
7%
Calcium 3mg
0%
Iron 1mg
3%
Potassium 33mg
1%
*The % Daily Value (DV) tells you how much a nutrient in a food serving contributes to a daily diet. 2,000 calorie a day is used for general nutrition advice.